How to convert DVD and AVI, MPEG, WMV, DivX, 3GP etc to iPod MP4?
This document will show you how to convert DVD movies to iPod format MP4 and the easy way to put DVD on iPod. After these great jobs, you can joyfully enjoy your DVD movies on the iPod.
1. First of all, please download
Xilisoft DVD to iPod Suite
, and then run DVD to iPod Converter.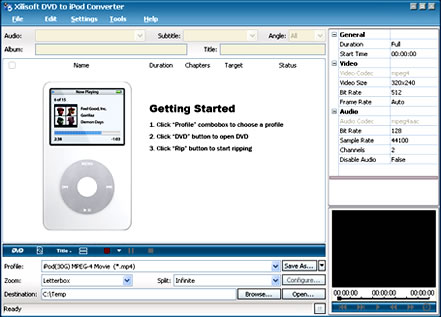 2. Load your DVD into the program: Please choose "Add DVD Folder" in the File menu or directly click the "DVD" button in the main interface,then select your DVD-ROM in the pop-up window and press the "OK" button.
3. You can convert your whole DVD by highlighting the title which contains the whole episodes of DVD, such as the title 01 in the following screenshot. Or if you like, you can select certain chapters to convert: Press "Show Chapters" button on the interface to find all the chapters in the file.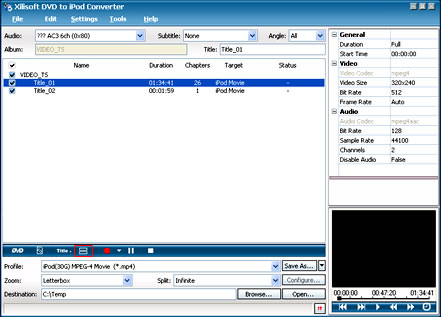 4. Highlight certain chapter you want to convert or just keep all chapters being selected.
Then set output format: Select the target output format in "Profile" combo-box on the interface. You can select different output formats for different files. And the result of setting will be shown on the list. After selecting iPod MPEG-4 Movie format (*.mp4) in "Profile" combo-box, you will get output format iPod MP4.
Note: In the latest version, there are iPod MPEG-4 Movie format (*.mp4) for both 30G and 60G, please choose the suitable output video size for your own iPod.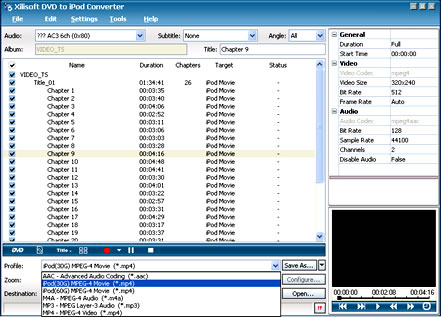 5. After selecting certain output format, the right column will show general standard of the format. By clicking certain setting(s), you may specify it. For example, you can choose Video Rit Rate to 512, 250, 718 etc. Or just keep all the default setting to get the best output quality.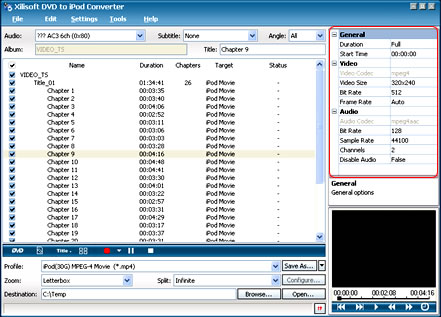 6. Select the output folder: please click the "Browse..." button or directly enter a path in "Destination" box.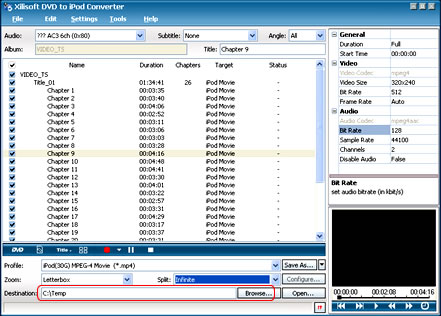 7. Finally, select the chapter you want to convert, right-click the chapter name and select 'Rip Selected' under the menu, it will begin to convert what you choose.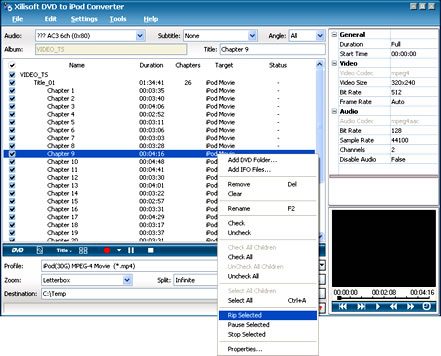 For a moment, you files will be successfully converted to iPod MP4 format. Here is the method to move it to your iPod:
Please press the "open..." button on the interface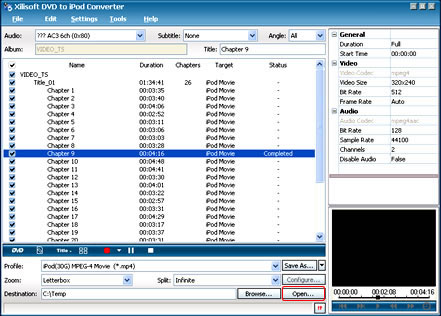 Find the converted file in the destination folder, then copy or pull it to your iTunes.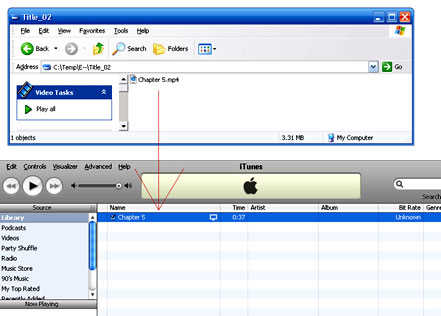 If you don't have an iTunes yet, please download it free at:
http://www.apple.com/itunes/download/
Pull the file list under the iTunes to your iPod. Then you will see the file name under 'Recently Added' list of your iPod menus.
Now, what should you do next? Just enjoy your DVD on your iPod to the top of your bent!
(** If you want to convert your video formats, such as
DivX, MPEG, AVI etc to iPod MP4
, you need to run
xilisoft iPod video Converter
to help you.)